The cover of this comic is my wallpaper. This won't be bias whatsoever. If you're joining us just now welcome to my series of #ComicEssentials where we all read through a character's most important stories to later talk about them here like a Book Club, but for comics. Read until the end to find out what we'll cover next week.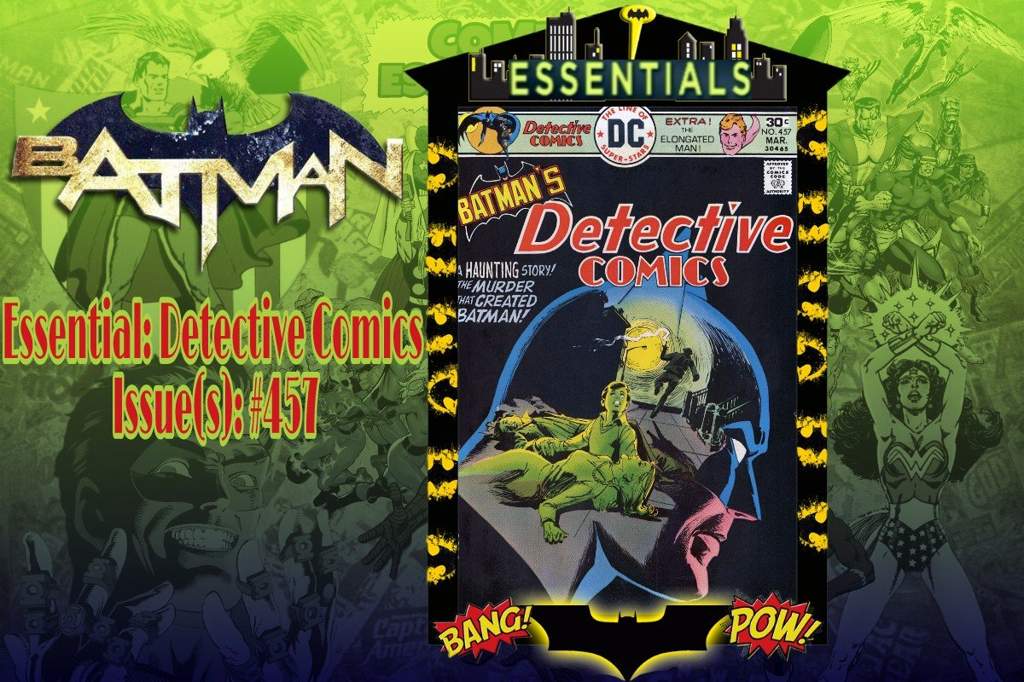 Batman: There Is No Hope in Crime Alley (1976)
 Issue(s): Batman #457
🖊Writer(s): Dennis O'Neil
 Penciler(s): Dick Giordano
 Series: #BatmanEssentials
PLOT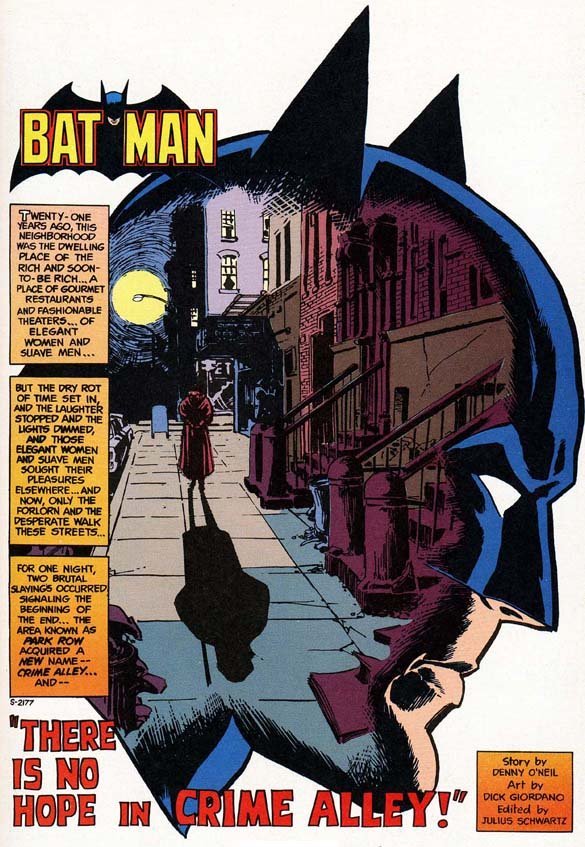 It's the time of the year when Batman ignores all the crime in the world except for the one place called Crime Alley. A street where his father and mother were shot down by a man named Joe Chill. Sad stuff. He's in search of a woman, Leslie Thompkins. Bruce travels to the location and stops a carjacking. He asks of the residence of the woman, they give him an answer.
Batmam travels to that specific spot to witness yet another criminal, psychopath who demands money from a poor old man. It's crazy to think the Dark Knight would allow an FBI-level case go ignored just because he wants to pay respects to his dead parents. Heck, a similar point made an old man who himself was saved by the Batman. This is what he said back,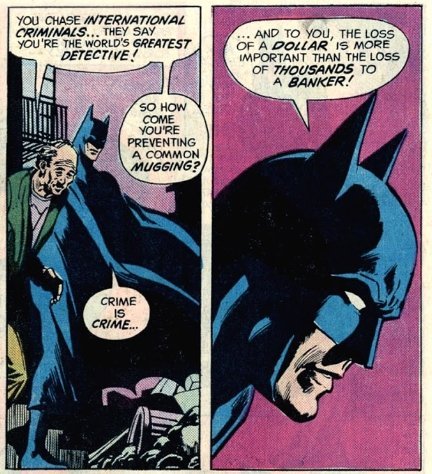 Batman moves on to spot where an old woman is being attacked by 2 men with a gun. It's her! Leslie Thompkins! Our hero swoops in, beats up one thug, and the other does one of the dumbest things anyone could ever do to THE BATMAN! He pulled a gun on him in CRIME ALLEY!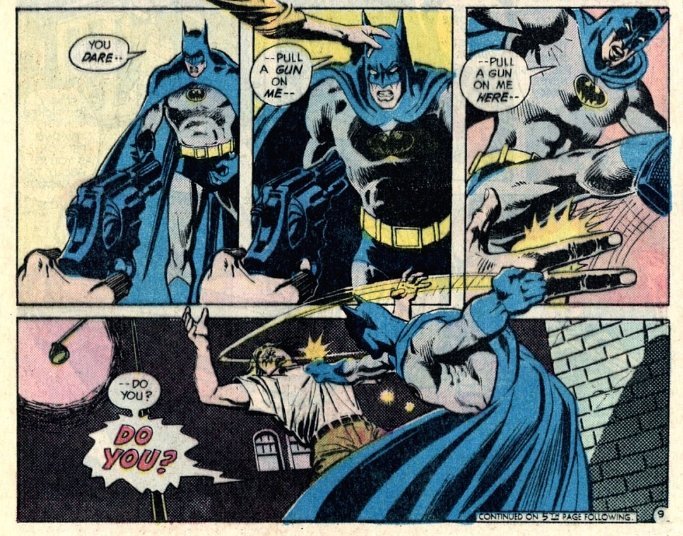 Bruce repeatedly punches the criminal, we see a flashback scene of that one dreadful night. A boy, weakened, terrified, traumatized. Witnessed the death of his parents, helpless, but then: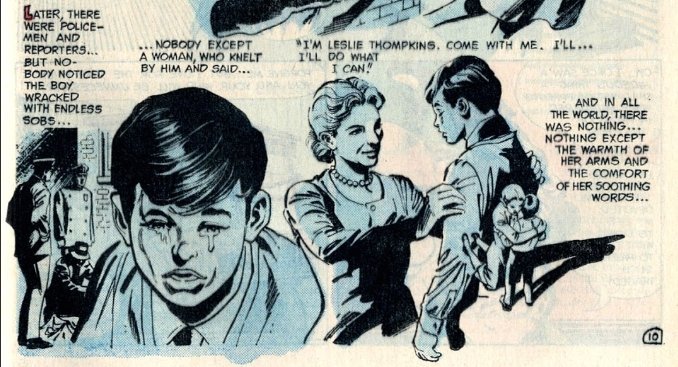 We go back to the present when Leslie Thompkins tells Batman to stop beating up the criminal to such a critical state. Batman apologizes and later thanks her. He once thought there was no hope in Crime Alley, but he was wrong. He kisses her on the forehead and goes home. It's early mourning and Alfred spots Bruce in his costume in the penthouse sleeping with a smile on his face. Dammit! I am not tearing up!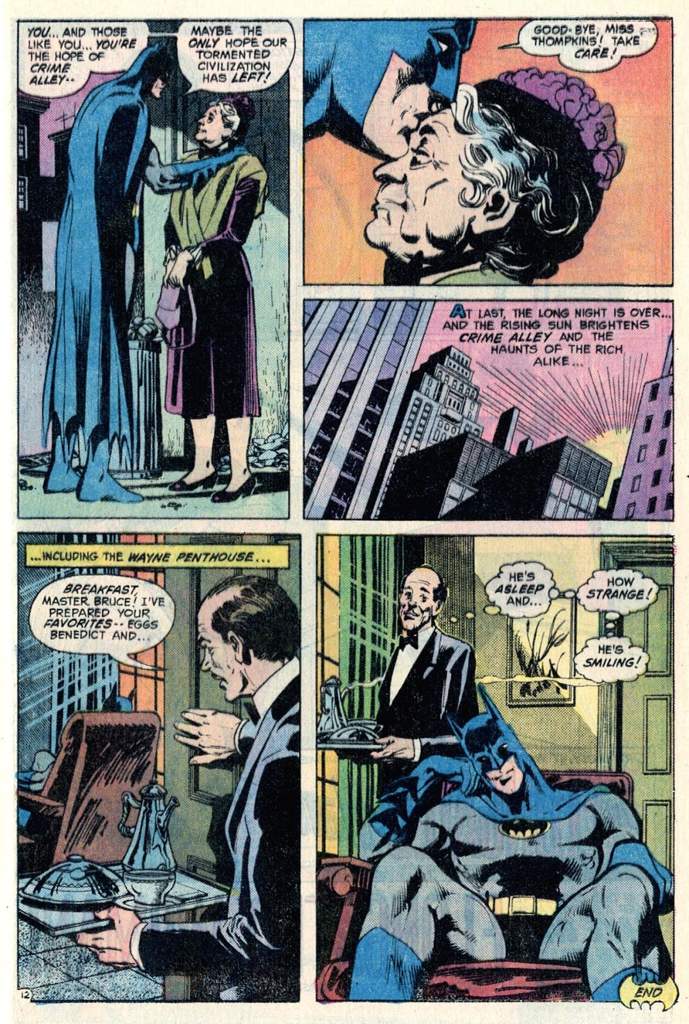 Why is this issue so important? Well I'll answer with a question: who would've thought a Batman story could be so emotional? Funny how all it took was one woman's heart to expel the terror a child had to go through. No matter how much hell we go through there is always one thing we can expect to never stop existing, hope. Even if we think it may no longer be there. This was a very beautiful read.
PLOT: Dennis O'Neal FINALLY delivers on his greatest story ever told. This is what O'Neal was meant for. Anything he has to tell builds up to one beautiful moment. This issue will stay embedded in my mind for the rest of my life. I heard a lot of good stuff about O'Neal and at first I wasn't sure if the stories were true, but after reading it I exactly see what they mean.
10/10
ART: I had the cover of this issue as my wallpaper, without the text and it looks glorious!. I never realized it was from an actual official issue of Detective Comics, especially a classic one, so seeing the cover already gave me the impression I was up for something spectacular. The interior art is also impressive and plays with interesting techniques of light.
9/10
ACTION: Honestly, the best use of action I have seen yet from the #BatmanEssentials coverage. It never felt obligated to provide an action scene just so the fans would get their monthly dose of the same old thing.
9/10
CHARACTERS: Batman like we have never seen him before. Even what may at first appear as a selfish move turns out to be both heroic and very human. Also Leslie is a such a heartwarming figure. How many times do we see a person in need yet for some reason we're scared to do so? Why is it that good is more difficult to get to than evil? Well, this old woman has a heart of gold and battles crime in her own badass way.
10/10
IN CONCLUSION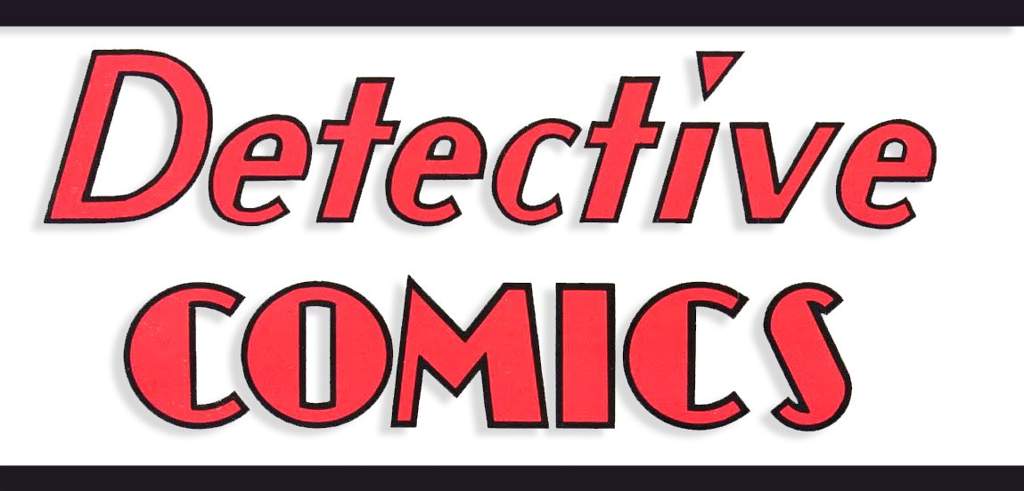 Detective Comics #457 is a tale in which hope is invoked. Bruce was always a hero who is fragile, human, but it's because of people like Leslie Thompkins that he was able to inspire others as she inspired him. An amazing message that I never expected to get from a Batman comic. Dennis O'Niel nailed it!
● 38/40 = 95% = Amazing
● Favourite Quote: "To you a loss of a dollar is more important than the loss of thousands to a banker."
● Next Bat-Time: Batman: Strange Apparitions (Detective Comics #469-476 & #478-479)
○In 2 Weeks: Untold Legend of Batman (#1-3)
Next week we are covering Batman: Strange Apparitions, a story that holds a special place in my heart. A week after that it will be the Untold Legend of Batman which is a 3 issue story arc so you got two weeks notice to read up on it.