I apologize for the crowded week of 3 posts, but I really wanted to start a new weekly series on here. Today, I will be looking at the best comics of my 20 long pull-list for this week. I have read many bad, some okay and then there were the amazing. Today I will save you the time of reading these and give you the 5 truly worth your time. Sadly Descender #23 by Jeff Lemire will not be on here because I haven't yet started the series. Also in honorable mentions we have Gwenpool #19 (Weird, right?), Spy Seal #1 and Astonishing X-Men #2.
5. Generations: Wolverine & All-New Wolverine #1
Before the Marvel's Legacy event that has been getting mixed anticipation reactions, they are releasing Generations to operate as its prelude for that. Modern heroes meet their older counterparts. So far there have been three – Generations: Hulks & er…..what was it? (*looks up the list*), oh right! Generations: Jean Greys – which have been fun, but very forgettable. It was finally Tom Taylor who came out with this comic that delivered on chemistry, action and a fun, yet formulaic story. Tom Taylor packed a good amount of emotional notes and actual character moments between Logan and Laura which we haven't seen before that add something, not only to the story at hand, but also the characters' history as a whole. If you're looking for a quick great read that delivers on the things you loved about classic superhero team-up, this is it.
4. Regression #4
I was not a fan of my previous exposure to Cullen Bunn's work on superheroes so when my friend told me to read his horror limited series Unsound, I did and I never again questioned the author. I craved for more Bunn horror and so I did. Regression is a tense story that doesn't need to deliver on the scares or the classic horror tropes, but rather on the atmosphere of what horror should be. This series follows a young boy who sees disgusting hallucinations of insects and bugs crawling around anywhere his sight reaches. We later find out his visions may be tied to his messed up "previous life". It sounds crazy, but that's because we are already on issue 4 which sets in motion the beginning of the climax that is about to go down – meeting his previous life counterpart who was involved in some creepy Middle Age sexual cults. The realization of such imagery works to its fullest thanks to Luckert's visuals. If you're sick of the jump scares, mindless and weak horror movies then this is the place for you.
3. All-New Guardians of the Galaxy #8
The most surprising series of the year continues to surprise me. What a surprise, am I right? If you're a fan of the Guardians of the Galaxy movies then this series might very much be for you. Sure, it is very much different from Dan Abnett and Bendis (thankfully) runs, but it is also is better than those two. Abnett's Guardians of the Galaxy might've been good, but it lacked character pull like here. What does that mean? In this new GOTG series each character has a personality and pay off. Even some of the changes to heroes like Drax, who became a pacifist, annoyed me. Then you find out why he became one and all suddenly makes sense. Even Peter's sudden resemblance to the movies is slowly growing on me. This issue is very action heavy, but it does deliver on plenty of comedy where at one point made me laugh out loud, it does deliver on great story progress and it does deliver on being an interesting self-contained issue within itself. It goes to show every decision our heroes make, matters! Those decision making stakes have been lately missing in many mainstream superhero comics today so, it's that much more important to see Gerry Duggan capitalize on it yet again.
2. Dark Nights: Metal #1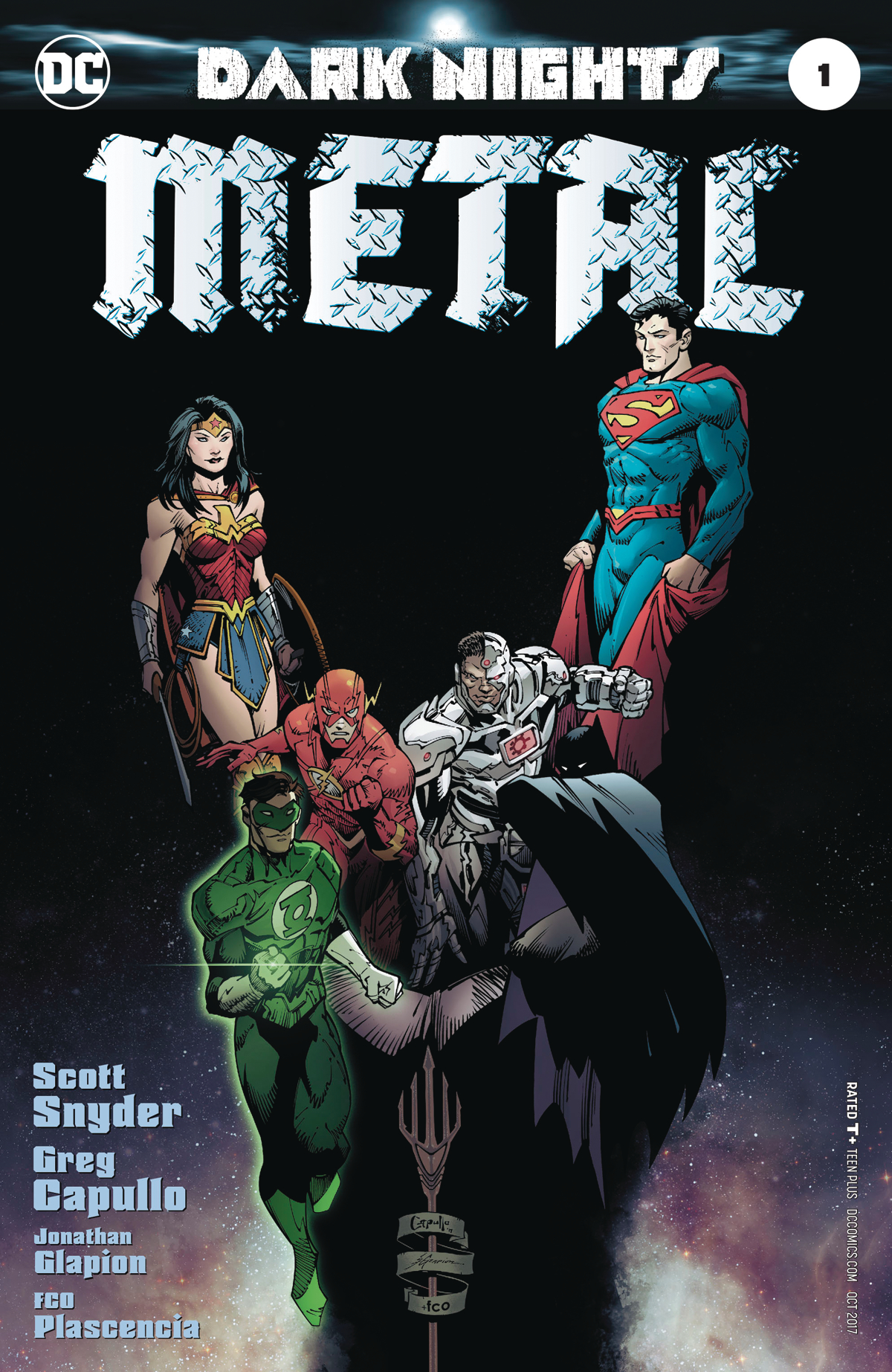 What?! The epic event is not my number one pick?! There is a good reason for that, but for now let's talk about this little gem with some spoilers. Dark Nights: Metal is a perfect follow up to its preludes Dark Days: The Forge and Dark Days: The Casting. Even though it's a very Batman centric event, the entire Justice League is involved and it brings back the many heroes we felt the need to return like Red Tornado, Kendra Saunders (Hawkgirl) and as the cliffhanger, Dream! The Power Ranger mecha in the opening was too ridiculous in my opinion, which dragged this to a number 2 spot. Everything else is perfect. Thanks to Rebirth, DC is on a roll with creating stories hardcore fans have been waiting to see since New 52 started. The choice of making Batman's heritage connected to the beginnings of the DC universe was also a factor to drag this to a second spot. I mean, why would you make your universe feel smaller by having all AAA heroes somehow connected to something this big? I mean, what are the chances? Either way, Dark Nights: Metal is a goldmine that will keep DC fanboys more than ecstatic. Hopefully the entire event stays on track.
1. Mage: The Hero Denied #1
Amazing is the word I would describe this week's premiere issue. It follows a seasoned superhero who now has a family and tries to escape from his past that leads to danger. Mage: Hero Denied #1 serves a refreshingly fun superhero story that very much feels like a modern Superman one (family aspect). There is a small, but very cool fighting scene where we see our hero use his powers in a way I have never seen any other hero use. The cliffhanger made me feel like I was missing out on something so, I did some research and it turns out this is a third volume to a series that hasn't had an ending for over 17 years. I was amazed by the fact that the writer, Matt Wagner was able to invite new audiences so well to his world. Not reading the previous two volumes never left me confused. The art wasn't the best, dopey at times, but the amount of fun I had reading this reminds me of the delight that comics are and I can't wait for what the rest 14 issues will bring.
Here are my final ratings:
Mage: Hero Denied #1 – 9.5
Dark Nights: Metal #1 – 9.2
All-New Guardians of the Galaxy #8 – 8.8
Regression #4 – 8.7
Generations: Wolverine & All-New Wolverine – 8.5
You better have enjoyed this week's list so make sure to check back next time as I take another look at the upcoming comics. Read these recommendations and write back if my advice was worth it or not. I would appreciate any further, future ideas on how to further develop this weekly series.