Today it's the bosses of most crime polluted cities in America that will have to face each other without their men.
Origin: Kingpin
For fat Wilson Fisk life wasn't very easy. Constantly made fun of, embarrassed until he killed his first person at the age of 12. Fisk would grow into being associated with gangs and betrayed many people to get at the power he is in today. That was the only way he could not be embarrassed.
Identity: Wilson Fisk
Alter Ego: Kingpin
Team Affiliations: Emissaries of Evil, the Hand, HYDRA
1st Appearence: July 1967
Origin: Black Mask
Roman Sionis was at a very high rank in Gotham City until Bruce Wayne came into the picture and led him to make horrible business deals. To gain revenge he has become a crime lord of Gotham City.
Identity: Roman Sionis
Alter Ego: Black Mask
Team Affiliations: False Face Society, the Society
1st Appearance: August 1985
Abilities & Weaponry: Kingpin
Peak Human Strength
Advanced Hand-to-Hand
Master Criminal Mind
Indomitable Will
Walking Stick – Fire laser beam with 300 watts of impact; spray gas
Abilities & Weaponry: Black Mask
Criminology
Master Tactician
Expert Marksman
Advanced Hand to Hand Fighter
Single .45 pistol
2 Semi-Automatic Handguns
Battle!
Kingpin is one the strongest men in Hell's Kitchen. All that mass is really muscles. He knows fighting styles such as sumo wrestling, hapkido and judo. His skin would also become impenetrable by regular knife attacks. Although Black Mask doesn't have strength he definetly makes up in skill. Roman Sionis can go toe to toe with Nightwing, Jason Todd, Tim Drake, Catwoman and sometimes even Batman.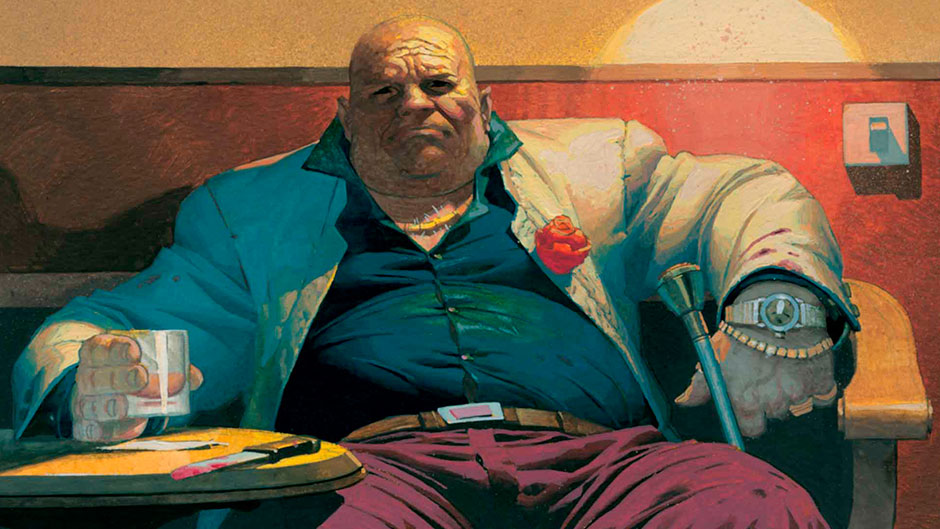 With regular weapons Black Mask has an arrange of single firearms like the 0.45 pistol or his 2 semi-atomatic handguns. He's not only a good shooter, but an excellent marksman. He was able to shoot  Jason Todd and Catwoman mid-air which takes pure skill given the speed of these two. Roman's accuracy is so far the deadliest thing in this fight. He even shot down batarangs coming in his way. Kingpin can only comeback with a walking stick that can shoot out a laser that gives off 300 watts and/or sprays sleeping gas.
So far everything is on Black Mask's side. Many would question if this version of BM has telepathy like he had in in New 52, but that either way wouldn't work on Kingpin's indomitable determination. Kingpin can block out the powers of the Purple Man not to add Roman can only control the ones of the weak mind. By the way if anyone is reading the current Red Hood and the Outlaws tell me if BM still has this power. Sadly Wilson Fisk fans, Black Mask has more fatal weapons with a particular set of skill set. Fisk's peak human skin is tougher that that of an everyday person, but even the gun impact will be too much.
WINNER:
BLACK MASK

(DC Comics)
Who expected Black Mask to win? Me neither! Join me next week with an awesome fight between Krypton's dark son and the Canadian guardian.