Tonight is the night lightning will crack open the skies as Storm and Black Lightning battle is about to go down.
Origin: Storm
As a rightful heir to the throne at a trip in Egypt her parents were killed in a Arab-Israeli conflict. She became an orphan who would grow up as a thief and once her mutant abilities awoke she became worshiped as a goddess. Later she joined the X-Men to fight for peace in a world filled with hatred.
Identity: Ororo Munroe
Alter Ego: Storm
Team Affiliations: X-Men, Avengers, Fantastic Four, Morlocks, Lady Liberators, A-Force
1st Appearance: May 1975
Origin: Black Lightning 
Jefferson Pierce always had a secret power within him due to the Metagene, but he never used it to his advantage. He became an Olympic athlete, then a principal/teacher and in order to help the people of his neighborhood he puts on his costume to fight crime.
Identity: Jefferson Pierce
Alter Ego: Black Lightning
Team Affiliations: Justice League, Outsiders
1st Appearance: April 1977
Powers & Abilities: Storm
Weather Manipulation
Flight
Agility
Expert Combatant
Born Leader/Tactician
Weaponsmaster
Master Thief
Strong Spirit – strong willpower and is determined; her spirit can replace Eternity's spirit (Fantastic Four #550)
Powers & Abilities: Black Lightning
Electric Projection
Electric Absorption
Flight
Force Fields
Electrical Form
Lightning-Fast Reflexes
Battle!
So I understand many people feel that the character of Black Lightning may be on the underhand, but shockingly enough people don't know his full potential which is why I'd rather start with him. I wouldn't want anyone to storm into my comment section all angry and say how unfair this match is. So despite Black Lighting's name his lightnings aren't really black neither is his main power lighting. What a lie, right? Instead he is a master at control over electricity which he can use or create to such an extent that then he is able to create a storm of providing 100 lightning bolts per minute with each containing around a billion volts. Jefferson Pierce can also absorb electricity, have reflexes that of lightning-speeds and theoretically fly at speeds of light like his name would suggest. To protect himself he can create force fields that can withstand explosions by missiles or grenades, metahuman attacks, energy projections and most offenses coming from Storm will be of those sorts. To top it all off he can go into his electrical form that is almost invincible to physical damage.
Now it is time to see Ororo's response to this. Although she is agile and had hand to hand combat training it won't come in handy in a fight like this as it will mostly only include the powers and not abilities. It's also a wiser choice. You don't fight a lightning with a fist you just don't. Storm is highly known for her powers of weather manipulation as she can control it on a molecular level. In X-Treme X-Men #2 (2001) she separated water molecules into oxygen allowing her to breathe underwater and has also shown communication with Earth abilities like shown in Astonishing X-Men Vol. 3 #43 and in X-Men Phoenix Endsong #2 where she felt incorrect order of natural occurrences. She can detect anything or anyone miles away using atmosphere so if Black Lighting wanted to hide or stealth attack she could find him real easy or track him with her non-mutant abilities.
Storm can create anything as big as hurricanes, tornadoes, floods, lightning storms to something as little and precise as making a flour bloom or even control someone's air intake. Her attacks would prove ineffective though because most of them would have a hard time passing through BL's force field, but the thing with the force field is it takes up most of Jefferson's power use so, he would have to use that feat in smart occasions giving Ororo possibility to strike. A counter argument to that is Pierce could just go into his electrical form which would protect him from physical attacks although he then becomes part of the environment and that would then provide access for someone like Ororo Munroe to take control over him or worse. Seize him out of existence. Correction especially someone like Ororo since she is possibly an Omega-Level mutant. Her defense is the only thing pulling her back and could really cause critical damage, but with a strong and focused mind like hers she could control or redirect Black Lightning's strikes.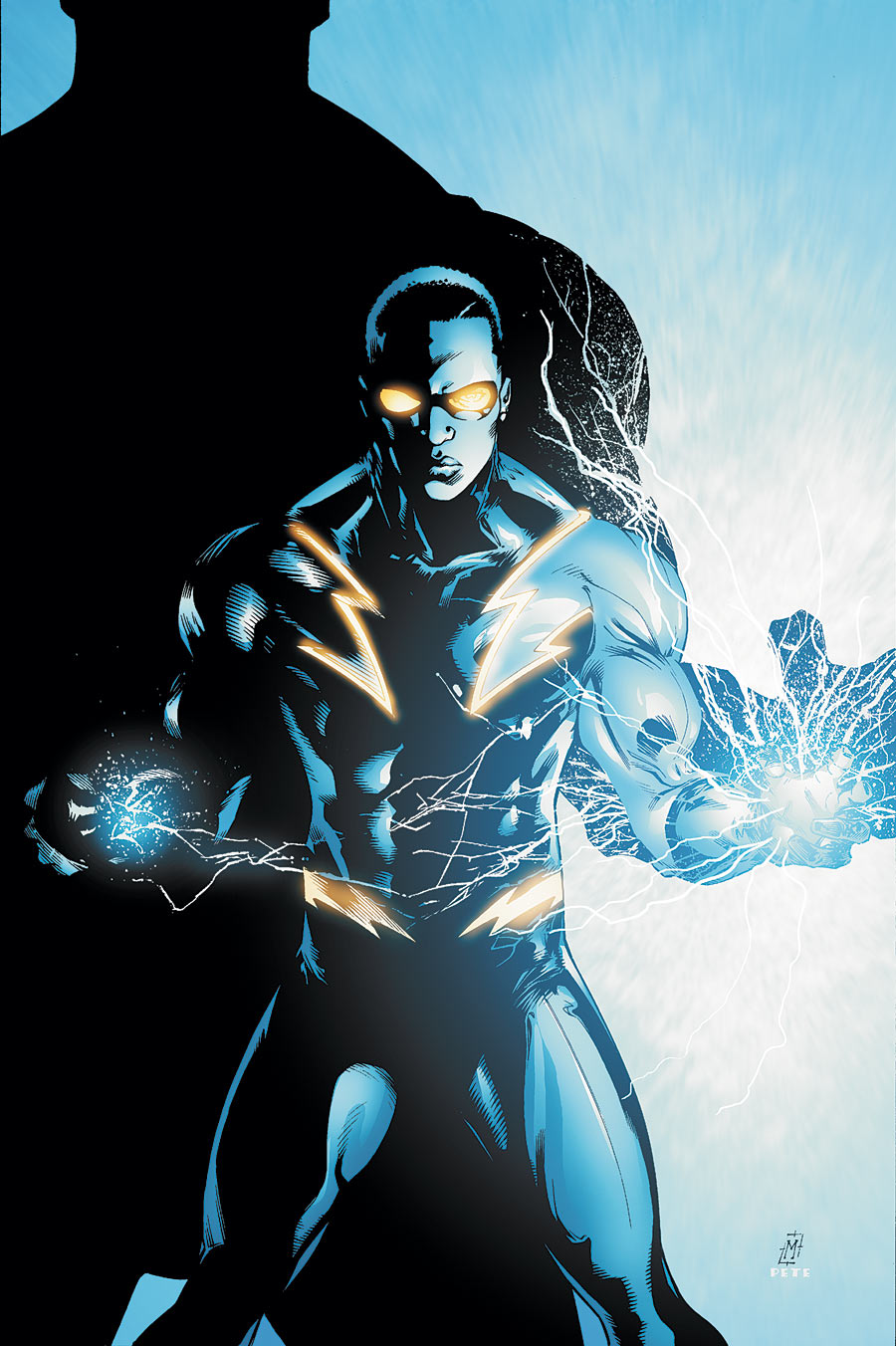 WINNER: STORM (Marvel Comics)
Weather you agree with the outcome or not you better have enjoyed this post because if you haven't then shame on you. You better like and tell your friends about this post or blog if you know anyone who loves comic book battles.
Can you believe that in 10 weeks we will reach our 50th battle!?!? The time is quick indeed.
Next Week: Riddle me this, Everybody was Kung Fu fighting, Those fists were as bright as lightning.