This week was loaded with new and exciting announcements that we should just get into for the sake of your time.
1. Mosaic
Marvel Comics announced a new anti-hero whose name will be Mosaic. Geoffrey Thorne will write the series and Khary Randolph will pencil it on October of this year. 
"Mosaic, will follow the exploits of a man named Morris Sackett. He starts out as a beautiful and successful professional basketball player, a selfish jerk, and — unbeknownst to him — a latent Inhuman…Once that happens to Morris, he finds he no longer has his handsome body. Instead, he's become a free-floating entity that needs to occupy other people's bodies in order to survive…"
– Reported by Vulture.com
You can expect him being mentioned in Uncanny Inhumans #11 which will be out next week and his origin will be exclusively out at Barnes and Nobles on August 5. His powers sound very similar to Deadman's which is an awesome thing for me (more Marvel vs. DC ideas!).
I am liking the idea of this new character being brought to the Marvel Universe. He is one of those characters that used to be arrogant before getting his powers, which isn't anything new as we had that with Dr. Strange, Iron Man. The art reminds me a lot of Francis Mainpulz' which is always a good thing. Let this be another successful new character. I wanna see Marvel do more new characters so I have my fingers crossed.
2. Cerebus in Hell
Cerebus is back! This acclaimed character who impacted the comic book industry since 70s to 00s with his 300 issues will be brought back, but this time in a comic book strip form on September 29th in Cerebus in Hell #0. Then to celebrate his 40th anniversary next year a 4 issue miniseries was announced with the same new title. Dave Sim will be back to helm the writing. I never read Cerebus, and I wanna change that before this series comes out. I love seeing how different characters shape the industry and make it evolve. Cerebus is one of those characters and I certainly don't wanna miss out.
3. The Raid
Titan Comics have got the licensing rights to publish the Raid comic. For those unaware the Raid is a film franchise known for its amazing visual hand-to-hand action. This could be something, but knowing the comic industry this will be another unnecessary lincesened franchise brought to comics. No wonder people treat comics as nothing eventful when these type of titles aren't eventful. Continuation of a series by bringing it from other media into this media is dumb and barely anyone reads it (Smallville Season 11 for example). No one takes it seriously. If someone wants a sequel to their beloved film franchise, they'll want it in a film form. At least that's my take on it. Am I wrong? Tell me if I am and prove me otherwise.
4. Fables Sequel
Matthew Sturges, Dave Justis and Travis Moore will launch Everafter: From the Pages of Fables which will be a new monthly series published by Vertigo Comics. The series is described as a "spy thriller" which is very exciting to hear. I like sequels that originate from comics unlike the Raid. The premise goes like this:
"In a post-Fables world where magic abounds, it can be wielded for the greater good or used to sow the ideas of anarchy and terrorism. Enter The Shadow Players, a global network of agents – both Fable and mundane – tasked with policing a newly enchanted world and protecting humanity from itself. The series will feature fan favorite characters, including Bo Peep, Peter Piper, Hansel, and Connor Wolf as well as exciting new characters and a terrifying new villain."
5. The Recidivist
The great Matt Fraction earlier this year announced a project called, The Recidivist. Although we still don't know much about the plot Bleeding Cool reported the series will not only be written by M. Fraction, but also worked on by Chip Zdarsky and Annie Wu. After reading their Hawkeye I am excited for Matt Fraction and Annie Wu's return to work as a team. It also looks like Zdarsky and Fraction still wanna work with each other. I wouldn't blame them as the duo won an Eisner back in 2014 for Best New Series on the acclaimed Sex Criminals. You can see how this Trinity is hyping my excitement.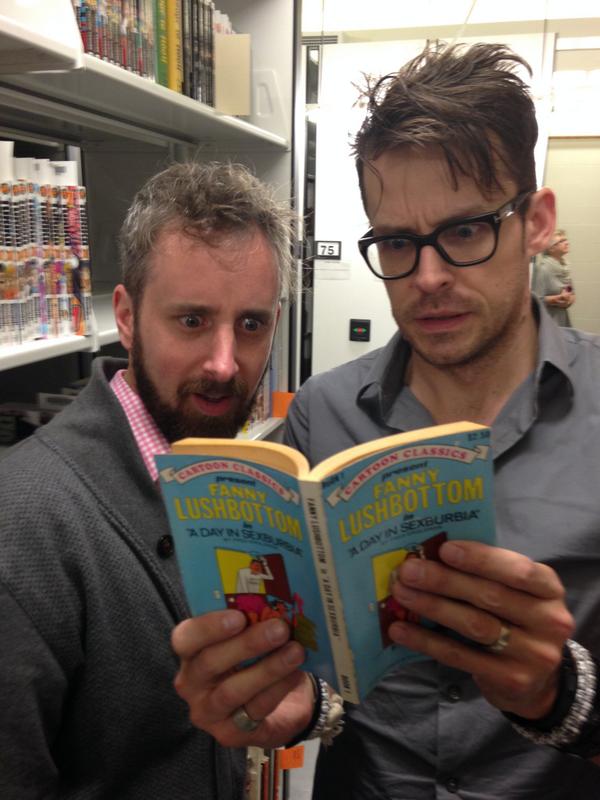 6. Marvel NOW! Teasers
We started with Marvel and we'll end with Marvel. As you know Marvel Comics will initiate Marvel NOW! (Again!) and throughout the entire week Marvel decided to tease us a bit. Here are all the posters:
As we can see in one of them we have Mosaic, who we just learned is an anti-hero – so sometimes good sometimes bad. Under Ms. Marvel we have the girl from the current Invincible Iron Man series who is building herself an armor. In another we see Dr. Doom!? Bad guy! We know Prowler will become a villain once again as we learned that in Civil War II: Amazing Spider-Man and that knock off Thor just looks downright shady. I am noticing most of these characters are new and evil. Maybe Marvel will start to introduce new supervillain solo series and not superheroes? I will buy one of the character's comics to vote for more new and original fictional figures, but we'll have to wait until July 13th until the official news on Marvel NOW! is unveiled. We'll see if I'm right.
Well which of the news was your favorite? I won't make you vote on a poll this time. Make sure to follow the website if you're new to it. Thank you for 100 followers by the way and I hope we get more readers. Stick to Comic Booger!