Welcome! My name is Olaf Lesniak and this is Marvel vs DC! The series that will come out weekly on Saturdays and will pit two famous characters against each other. I will look at both opponents' skills, powers, abilities, stamina and etc. to help me determine the winner. Today our battle is….
Enchantress vs. Enchantress!
First we will look at the origins and the basics of each character. We will follow that by their powers and abilities which would then lead them into battle.
Origins: Enchantress (Marvel Comics)
Amora was born on Asgard and was trained the ways of magic by her apprentice. Too undisciplined, Amora was banished from Asgard which forced her to use abilities and charm to learn the secrets of magic from other sorcerers. Amora was named the Enchantress as she became one of Asgard's greatest threats.
• Identity: Enchantress
• Alter Ego: Amora
• Occupation(s): Suoervillain, goddess
• Team Affiliations: Masters of Evil, Illuminati
Origins: Enchantress (DC Comics)
An average teenager, June Moon entered a secret passage of the Terror Castle where she found a demon named, Dzamor. Dzamor gave June Moon the magical abilities of a witch because he believed she would be a mystical defender against evil.
• Identity: Enchantress
• Alter Ego: June Moon
• Occupation(s): Supervillain/superhero, witch
• Team Affiliations: Suicide Squad, Shadowpact, Justice League Dark
Power & Abilities: Enchantress (Marvel Comics)
Mistress of Sorcery
Super Strength
Enhanced Speed
Enhanced Durability
Enhance Reflexes
Enhanced Stamina
Enhanced Agility
Long Life Span
Healing Factor – cannot regrow organs nor limbs; immune to Earthly diseases and infections
Generate Powerful Blasts of Force
Heat Blasts
Light Blasts
Appearance Alteration
Teleportation
Alluring of Men and Women – can make a man a slave for a week by her kiss
Telepathy
Illusion-Casting
Paralysis
Deflection of Matter and Energy
Interdimensional Travel
Sleep Induction
Elemental Conversion
Powers & Abilities: Enchantress (DC Comics)
• Mistress of Sorcery
• Teleportation
• Healing
• Flight
• Telepathy
• Walk through Walls
• Control over fire and other elements
• Heightened Degree of Strength
• Reflexes
• Resistance to Injury
• Senses Magic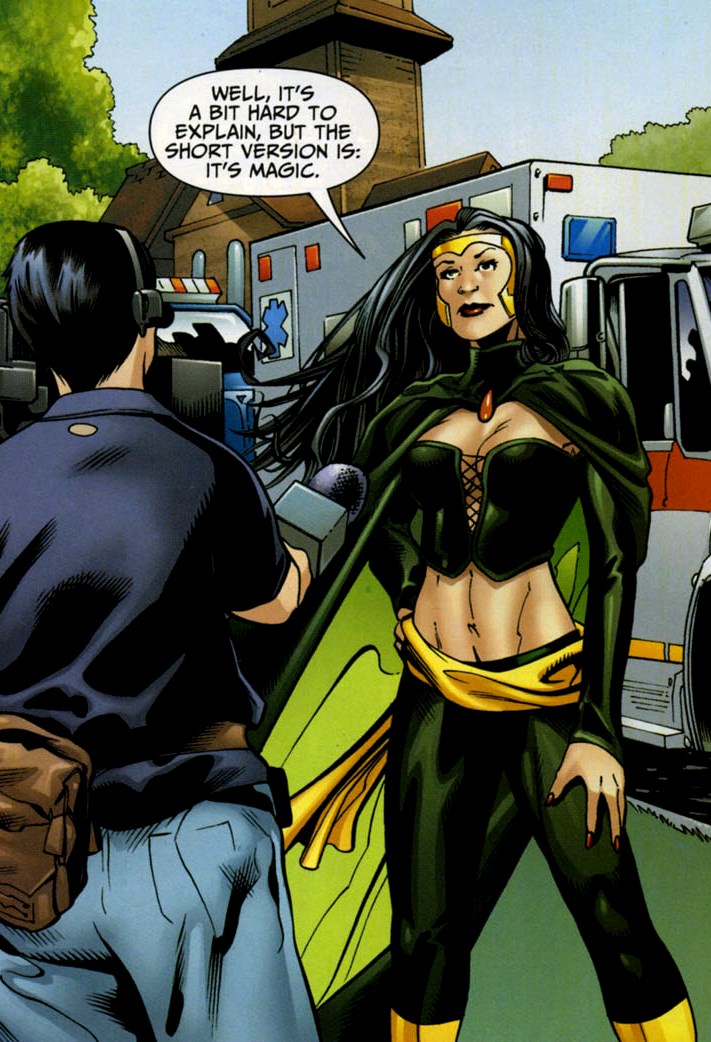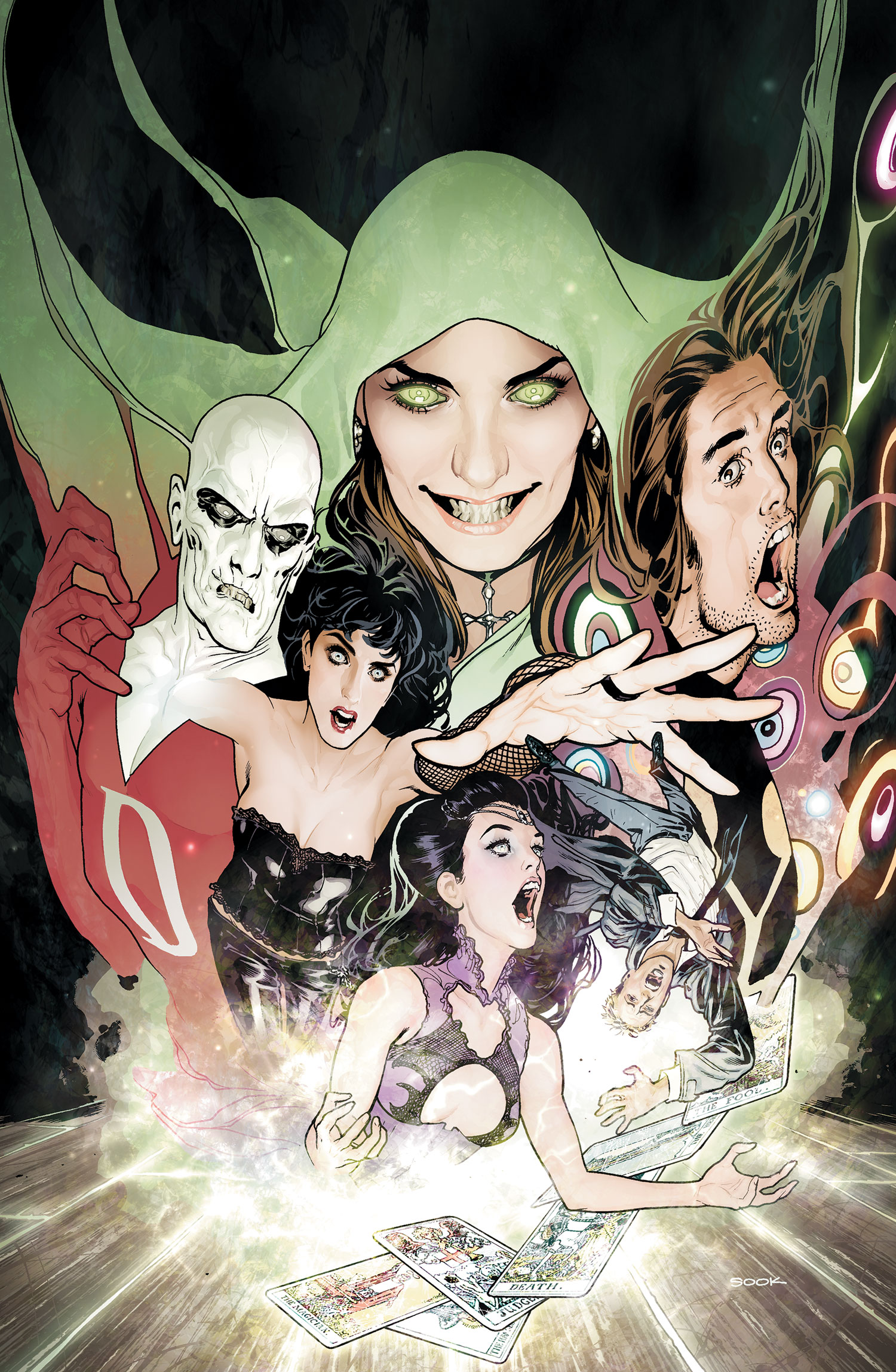 Battle!
I always wanted to do this match especially that they literally have the same name, although they are very different in their own rights. The Enchantress of Marvel Comics has been able to perform magical feats such as being able to utilize enough power to cloud the sight of the eye of Agamotto through an orb. She also bested Nightmare in his own dimension and changed Black Knight into a statue that Doctor Strange couldn't even change back for a long period of time. Amora has been considered to be the 2nd most powerful sorcer in Asgard. Now the DC Comics' Enchantress is a very powerful magician herself as even Zatanna's magic alone couldn't phase her and defeated Superman, Wonder Woman and Cyborg all at once. It took the entire Justice League Dark to take her down which consisted of the most powerful magicians in the DC Universe.
This is very though to tell, but it seems that both ladies are equally matched when it comes to sorcery. If we looked outside of the magic realm Amora can lift at most about 25 tons and has enhanced reflexes, agility, stamina, and durability. June Moon has no such physical capabilities, but to be fair both of these women wouldn't use brute force unless their magic wouldn't work at the time. The characters both have really powerful standard magic attacks, but they both could easily counter them so, we have to look into their strongest and most useful abilities to give us the ultimate winner. Ladies and gentlemen! I looked hard into their ups, downs and the winner of this battle is……ENCHANTRESS!
What? Oh! Right. The DC version of Enchantress! Wait! Don't get mad and listen up. Before the research my bet was on the Marvel version, but one of the things she lacked to the DC's master of mysticism is her healing power. June Moon is immune to injury meaning any attacks the goddess makes will most likely not be that harmful. But let's say that the goddess does manage to hurt Moon really bad…. this wouldn't be a problem as DC's Enchantress could easily heal broken bones, while the Marvel's one cannot regrow organs or limbs and broken bones could be too much work during the battle, as it takes place. And yet I didn't mention the form of the Enchantress that leaves June Moon and goes full witch on, which like stated earlier easily defeated the Justice League! Amora's shape-shifting wouldn't be successful neither as June Moon can sense every mysticism. Enchantress can also use the magic of her opponent and use it against them, like the time when she took magic away from every magic user on the planet and gave it all to Shazam in order for him to fight the Spectre.
WINNER: Enchantress (DC Comics)
Thank you for reading this installment of Marvel vs DC. Do you agree with the result? What are some next battles that you would wanna see me analyze? Give me all suggestions, opinions and ideas in the comment section. Be sure to like, and make sure to SHARE! Thank you all once again and see you next Saturday.
Follow me on twitter: @olaf_Lesniak
TEASER FOR NEXT WEEK: Once allies…. now anti-heroes.