Welcome! My name is Olaf Lesniak and this is Marvel vs DC! The series that will come out weekly on Saturdays and will pit two famous characters against each other. I will look at both opponents' skills, powers, abilities, stamina and etc. to help me determine the winner. Today our battle is….
Iron Man vs. Cyborg!
First we will look at the origins and the basics of each character. We will follow that by Iron Man's and Cyborg's powers and abilities which would then lead them into battle.
Origins: Iron Man
During the war in Afghanistan playboy billionaire industrialist, genius engineer Tony Stark was send there to test his military weapons he was creating. After being kidnapped by terrorists and critically injured Stark was imprisoned and forced to build weapons of mass destruction. Utilizing the material the terrorists were providing him he created an armored suit to escape. After successfully escaping Tony realized that he was creating weapons that helped harm the world, instead he began creating weapons to protect it. That day the Iron Man was born.
Identity: Iron Man
Alter Ego: Anthony "Tony" Stark
Occupation(s): Hero, playboy billionaire industrialist, engineer
Team Affiliations: Avengers
 Origins: Cyborg
After a deadly incident in a lab Victor Stone was on a verge of death. Victor's father who was a scientist cybernetically enhanced his son to keep him alive. Now Victor has to give up his regular human life forever to become Cyborg and protect the world.
Identity: Cyborg
Alter Ego: Victor Stone
Occupation(s): Hero
Team Affiliations: Justice League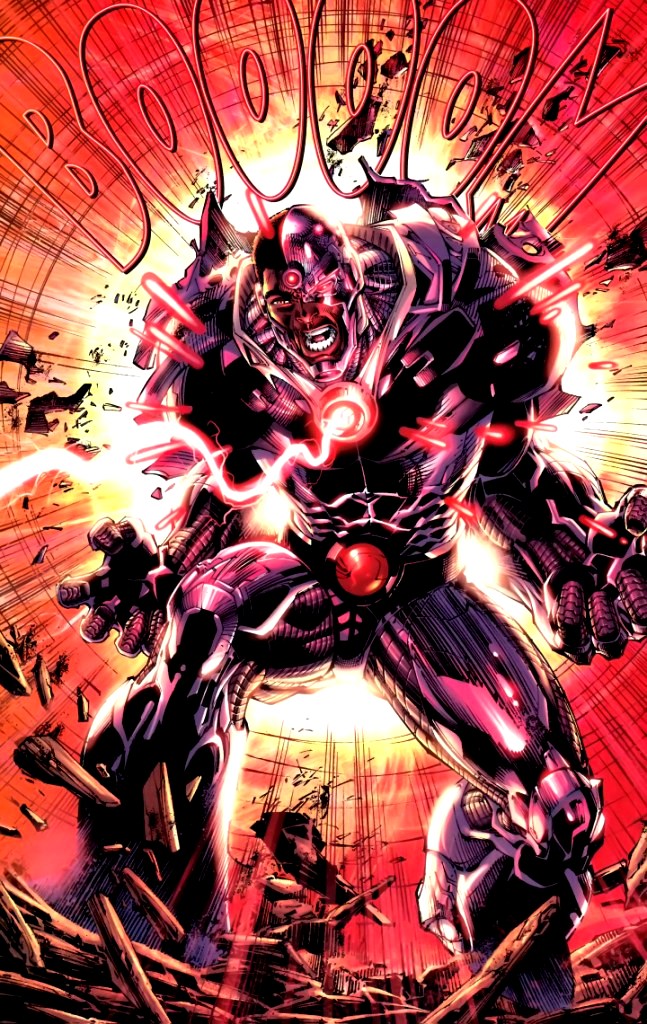 Powers, Abilities & Weaponry: Iron Man
Controls Every Suit He Possesses – his new design has almost every suit in one armor
Fly – exceeds the speed of a jet airplane
Repulsor Rays
Uni-Beam – coming from his chest arc reactor
Pulse Bolts – pick up kinetic energy (for stronger impact)
Energy Shield
Manipulation and Creation of Magnetic Field
Sonic Blasts
Holographic Projection – for use of decoys
Missiles
Lasers
Explosives
Connect to Any Communication Device in the World – computers, satellites
Strength
Durability – suit is made of titanium able to withstand bullets, missiles, torpedoes, etc.
Energy Conversion
Space/Underwater Travel
FRIDAY – a system that informs Stark of his surrounding, status of the suit and possible enemy weaknesses
Self-Repair
Stealth Mode
Genius-Level Intellect
Leader
Hand-to-Hand Combat – trained by Captain America
Weaknesses: High amounts of lighting, electricity or magnetism may overload Iron Man's systems
Powers, Ability & Weaponry: Cyborg
Super Strength – destroyed Kalibak's Chaos Cannon that is able to destroy planets
Super Speed/Agility
Durability – able to withstand pressure from the deepest parts of the oceans
Stamina – doesn't need to drink, eat, sleep nor breathe
Computer Interface– ability to connect to every computer and satellite on the planet
Body Armor- computer generator; hard as titanium
Jump Jets – allows him to jump at far distances
Flight
Superhuman Senses
Super Hearing
Microscopic/X-Ray/Night Vision
Target Tracking System
Psychological/Medical Scanners
Technopathy – communicate and control any technological device on the planet
Teleportation – uses Boom Tubes to teleport; installed a silent mode that Superman couldn't even hear coming; a small possibility of being transported to Apokalips
White Sonic Cannon – loud enough to take out a huge group of Parademons
Sound Emitter- able to mimic any sound and emit it out
Ice Beam
Energy Cannon – EMP canon is able to incapacitate any technology without shielding in a distance of 50 meters away (aka Heart Attack)
Leader
High Level of Inteligence
Technomorphing – allowing him to add on any other tech onto him
Healing
Resurrection
Battle!
Cyborg and Iron Man are both characters that are highly drawn to their technology and without it they would most likely perish, which is why I chose both of these intelligent men to fight. Let's look at their stats to determine the winner. Of course Iron Man has many armors that he could call upon during the fight at any time, but today we will look at his "All-New All-Different Marvel" suit as it is the most likely one for him to wear and because the suit has all in one capabilities of the previous suits. For Cyborg we will look at his newest suit that he received after he died and resurrected himself for the first time. Iron Man is capable of picking up 100 tons while Cyborg can only pick up 5. Iron Man clearly over powers Cyborg here.
Cyborg's advantage would be his teleportation device that is so stealthy Superman can't even detect it. Cyborg and Iron Man both have a huge variety of weapons that could cancel each other out, but Iron Man overpowers once again since he has nearly every suit build into one and that means that Tony has the bigger variety of weapons. His strength and the ability to turn into any suit he wishes (Iron-Samurai or Hulkbuster or Stealth-Iron Man) at any time would grant him the ability to win.
Let's look at Cyborg's strongest weapon though. An energy beam called the Heart Attack that can destroy any technology 50 miles from him. Sadly this wouldn't work. One, Iron Man has an energy shield which the beam would not pass through and two, Iron Man can absorb energy and transfer it into electricity to recharge and become even more powerful. Iron Man could kill Cyborg instantly, but Cyborg does have a secret weapon. He resurrects. And it is such a quick process that if Stark were to kill Victor he would resurrect himself in less than a minute. This would seem like a never ending battle except for the fact that both heroes have hacking skills. The first person to hack into the other one's system would likely win so, in order to do that we need to know how long it takes for each of them to hack.
Let's first look at Cyborg. It would take a couple of minutes for Victor Stone to interface with an unknown computer (Iron Man's computer would be unknown to Vic since he is from a different dimension). Now if we look at Iron Man it also takes him time to override someone else's system, but his ace card is Friday. All Tony has to do is tell Friday to try and hack into Cyborg's system. What Cyborg would have to do is interface with Iron Man's computer MANUALLY and fight him at the same time which would throw him off. Even if both heroes started to hack at the begging of the battle Iron Man would kill Cyborg (as we agreed previously) which would halt Victor's hacking process. When Tony hacks into Cyborg he could dysfunction his abilities and kill him forever. This makes the armored avenger the winner.
WINNER: Iron Man
Thank you for reading this installment of Marvel vs DC. Do you agree with the result? What are some next battles that you would wanna see me analyze? Give me all suggestions, opinions and ideas in the comment section. Be sure to like, and make sure to SHARE! Thank you all once again and see you next Saturday.
Follow me on Twitter: @olaf_lesniak
TEASER FOR NEXT WEEK: ROARRRR!!!!!🐯